Swame - Introducing the private social network to monetize your content
More and more platforms are offering registered members to monetize the content on their page. If we know Onlyfans for a long time, Mym Fans has also made this activity known since 2019. Currently, another platform is making its way into this market that is starting to make a name for itself among Internet users. It is Swame. The site is very promotional and allows anyone to sign up to be able to earn money in different ways. But before you start, it would be better to know the platform and its specificities. We will explain it in this article.

Swame is a new social network that is especially dedicated to adults. Just like Only Fans and Mym FansThis platform allows members called "models" to share photos and videos, both public and private, and thus, to be monetized. To increase the number of subscribers on its Swame page, the platform allows a model to publish contents visible by the simple visitors. Then, if they are interested in the model's profile, they can subscribe to his account.
Swame is a site for adults which allows to make naughty encounters and to buy or sell sexy pictures. However, it is not mandatory to pose naked to be able to post your photos and videos on the platform and hope to sell them. Swame allows the publication of all types of photos and videos without being dressed as Adam or Eve. You can also register on the platform or subscribe to an account for the pleasure of chatting, without having to make naughty plans.
The objective of this social network is to allow model members to connect with other members of the platform and create a relationship of friendship or intimacy. It is even possible that through the content offered for sale, a model creates satisfaction in a subscriber and that the latter becomes a loyal customer.
It is therefore important that the model takes care of and retains its subscribers. Unlike pages and content on social networks such as Tik Tok, Facebook or Instagram, the subscriber pays to renew his subscription each month.
First of all, you must register on the Swame platform to access its contents. This step is free. However, it is necessary to confirm that you are an adult and that you accept the conditions and privacy rules of the site before your registration is validated.
Swame offers you a two-day trial at a very low price (2 €/model) with a possibility to access all its features. This allows you to get a good grip on your Swame account and to contact a model you like. You can also detect the profiles of models you are interested in and start chatting with them at a low cost.
It is important to know that having a free account does not allow you to access all the contents of the platform nor the photos of the models present. You have to subscribe to a model's account to be able to access all their photos and hope to communicate with them or buy their photos. 
After the two-day low-cost trial, you can switch to other offers to access the content.
The systems available to earn money on Swame

The subscription system
On Swame, it is possible for the model to set the price of the subscription that allows access to its page and its contents. The model is free to propose a subscription price of 2 euros or 100 euros. The subscription can be monthly or weekly, this will also depend on the model.
However, if you want to launch on the platform and you are not yet known, it is better to propose an accessible subscription price. The objective is first of all to have the maximum number of subscribers who can access the content you publish. You will then be able to encourage them to buy your photos or videos, in addition to discussing freely on the platform.
Buying points
A person who registers on the Swame platform can decide not to start with the subscription system. However, they can access limited content on your Swame page by buying points. The points purchase system is not more interesting than the subscription. However, it allows the visitor to see the profiles of the models he is interested in and to see the quality of some of their videos or photos, before subscribing.
Again, it is up to the model to define how many points a visitor has to pay to access their Swame page and sample photos or videos. The visitor must exchange money to have points available. Then, by offering the points in exchange for access to content, the model can exchange them for money.
The principle of the private show
The principle of the private show is to allow subscribers to make appointments with the model. The platform puts at the disposal of the model, a calendar which allows to organize these appointments in order to make a private show. The subscriber has the choice to choose the duration of this private show. It can go from 5 min to more than ½ h. During the private show, you can chat like friends. It is also possible to be more intimate and make more naughty exchanges.
To enable subscribers to request an appointment and access the private show offer, they must purchase points. It is then up to the model to define how many points a subscriber must pay for a 5 min private show appointment. Again, if you are just starting out and are not yet known, it is best to ask for a reasonable amount of points to access your private show. With time, as some profiles are already very well known on the platform, it is possible to offer up to 700 points or more, for 5 min of private show. As a reference, 715 points cost 50 euros.
Request for personalized photos or videos
A model can also get paid by answering specific content requests from subscribers or from simple visitors. For subscribers, they have the possibility to contact the model and request a personalized content (photo or video). If the requester is a simple visitor, he can choose a personalization offer that the model proposes on his page.
In this case, the model is free to set the price for each request. However, the payment will not be in money, but in points. The model also has the right to accept or reject a request.  
The tipping system
A model who manages his page well and offers quality content that is appreciated by the subscribers can receive rewards from them. These are tips that subscribers can send to the model in the form of points, redeemable in cash. This tipping system also allows some subscribers to stand out. By sending a lot of tips or at a fairly regular frequency, he can attract the attention of the model and access more personal requests.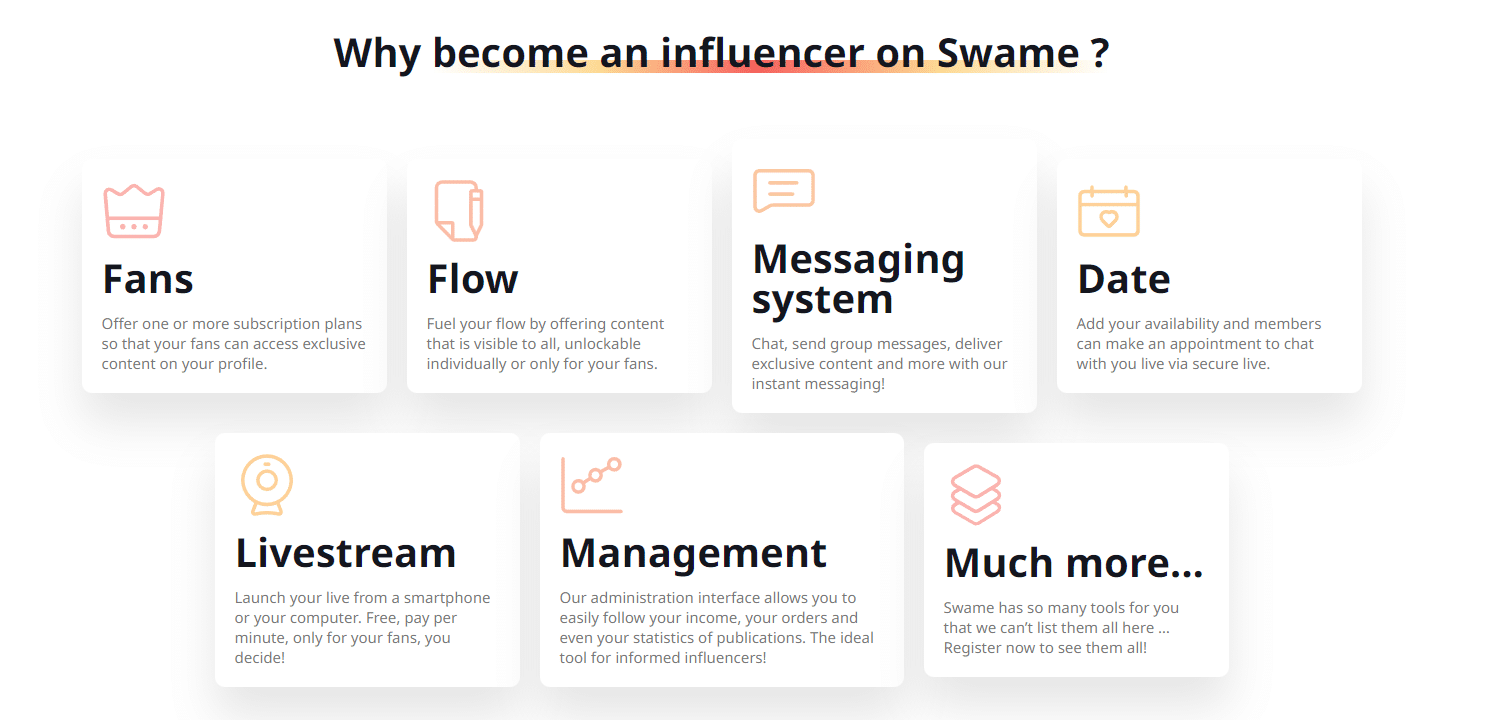 What about the earnings that are possible on Swame
As on other platforms such as Onlyfans or Mym Fans, Swame is paid by taking a share of the earnings received by the model on the site. Thus, the model receives 80 % of the earnings he makes on the platform. Swame only takes a commission of 20 %. A percentage that is calculated without tax.
This percentage remains reasonable since the site offers many ways for models to earn money. Moreover, they are free to set their price whether it is to subscribe their page, to sell photos or videos, or to access a private show.
Currently, the best models on Swame can earn around ten thousand euros every month. This is possible if you have an account with a large number of subscribers (thousands) and a monthly subscription price of 10 euros for example. The other earning solutions complete and increase this earning possibility.
Make money on Swame, how to promote your page?
To ensure its visibility and earn maximum money on Swame, the model has many possibilities.
First of all, he must have a lot of followers on his other social media accounts like Facebook, Instagram or even Twitter. Indeed, one can use these platforms to promote a Swame page and its contents. All you have to do is to publish attractive contents like a nice photo on Instagram for example. Then, in the description of the photo, integrate a call to action link to encourage followers to click on the link if they want to see more content.
The model should also think about feeding his Swame model page regularly with quality content. He can publish free photos to attract the attention of new visitors. It is also recommended to upload paid photos and videos that will be visible only to subscribers. These will be blurred for non-subscribers.